On-page SEO is all of the stuff you do to tell Google what your post is about and what search terms it should come up for. There are also some things you can do on-page that can help you to rank higher for those terms by reducing your bounce rate, increasing your click-through rate, increasing your dwell time, etc. (Don't worry, we'll explain how to do all of that later in this post.) Are you fully optimizing your posts for SEO on-page? Let's find out…
Initial Setup
First, you'll need to do some initial setup to your site prior to optimizing your individual posts and pages. You only need to complete these steps once and then you're good to go.
1. Install Google Analytics
Every website should have a Google Analytics account installed in order to monitor and fine-tune your SEO efforts. With Google Analytics, you will be able to collect visitor data from your website and use that data to create reports which will give you insight into how people use your website and how you can improve your SEO.
You can track how much search traffic you are getting as opposed to direct or referral traffic, you can monitor your bounce rate (which affects your rankings), and you can determine whether your on-page SEO efforts have been effective at increasing your organic traffic.
Recommended reading: How to Install Google Analytics for Beginners
2. Install Google Search Console
While Google Analytics gives you a picture of how visitors are using your site, Google Search Console (previously "Google Webmaster Tools") is meant to show you how your website is seen by search engines. Every website should install this tool.
You can see crawling information, how many searches returned pages from your site, how many pages are coming up in the search results, how many searches resulted in a click-through, your average search position, and much more. You can also use it to submit a sitemap and create a robots.txt file, which helps with SEO. You can even use it to find and fix errors that can have an adverse effect on your SEO
5. Create an XML Sitemap and Submit to Google
An XML sitemap is a list of all the user-accessible pages on your website, and it is used to tell search engines about the pages on your site that you want them to index. It also tells search engines which links on your website are more important than others, and how frequently you update your site.
Sitemaps don't affect your search rankings, however, they are important for SEO because they ensure that all of the pages on your site can be indexed properly.
6. Create a Robots.txt File and Submit to Google
Robots.txt is a text file that allows you to give specific instructions to web crawling bots. You can use it to tell search engines which pages you want them to index, and which you want them to ignore. Additionally, this is where search engines will look for your XML sitemap (unless you have specified it in Google Search Console).
7. Install Schema.org Rich Snippets
Rich snippets allow you to give search engines information additional information that you would like to appear in the search results. This makes your listing more noticeable in the results and can increase your click-through rate, which improves your search rankings.
Here is an example of a rich snippet with a thumbnail image and a star rating:
Before You Hit "Publish"
Now that you've done the initial setup, you are ready to optimize every post that you publish. Before you hit that "Publish" button, make sure you've checked off the following…
8. Use Google Keyword Planner to Find Keywords
Google Keyword Planner is a free tool to help you find keywords that you would like your post to rank for. You can see how many monthly searches there are for any given keyword, how high or low the competition is for that keyword, and it can even suggest keywords for you based on your topic so you can choose the best ones to target.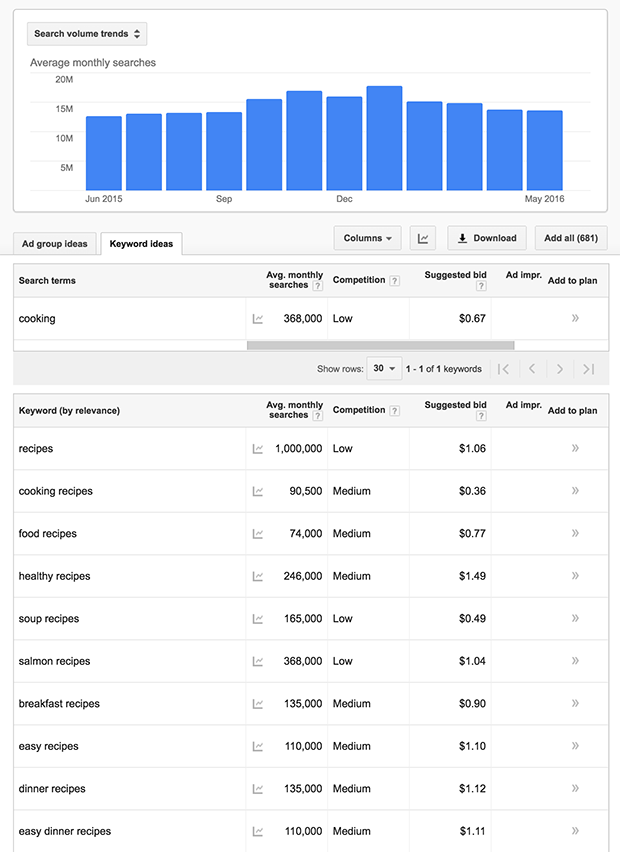 You'll need to have a Google AdWords account (free) to use the Google Keyword Planner tool.
9. Use an SEO-Friendly URL
Make sure your URLs are SEO-friendly. In general, if your URLs are easy for people to read, they will also be preferred by search engines. Match the URL to the title of your blog post wherever possible, and make sure your URLs aren't overly long (100 characters or more is probably too much).
10. Include Keyword in URL
Make sure your URL includes the keyword you want to target.
11. Include Keyword at Least Once in an H1 Tag
If your blog post name includes your keyword, then this part is probably already taken care of because the title is usually wrapped in H1 tags.
12. Include Keyword in the First Paragraph
Google looks at how early your keyword appears in your post, so make sure to include it at least once in the first paragraph.
13. Include Keyword at Least Once in Subhead Tags
Subhead tags are tags like H2 and H3. Include your keyword at least once in one of these subheads.
14. Include Keyword Several Times Within Body Copy
Without "stuffing" your keyword, include it several times within the body of your post. This should happen naturally as a part of the flow of your article.
15. Use Latent Semantic Indexing (LSI) Keywords
Latent Semantic Indexing (LSI) keywords are search terms that are synonyms or closely related to your keyword. You can find them at the bottom of the Google search results for any given search term: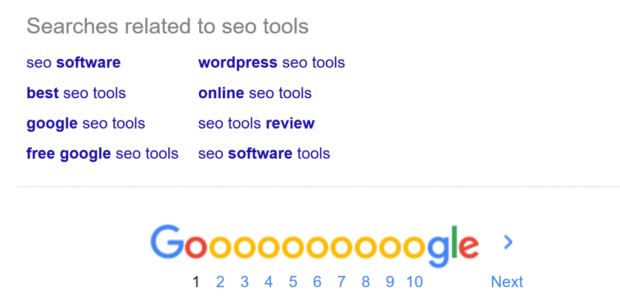 You can use these as ideas for alternate ways that you can phrase your keyword within your post copy. Again, don't stuff these: just use them naturally in your writing.
16. Include Internal Links Early in Your Post
Your bounce rate (the percentage of visitors who navigate away from your site after viewing only one page) is an important SEO ranking factor that Google looks at in determining how high you rank in the search results. To minimize your bounce rate, include internal links early on in your post.
17. Include at least 3-4, Internal Links
The other reason you should include internal links in your article is that interconnecting your posts will help search engines to crawl and understand your content. Make sure you are including at least 3-4 links to previously published blog posts each time you publish a new one.
18. Link to Relevant, Authority Sites
You should also include outbound links in your post when citing your sources. This helps give your content more credibility.
Just make sure that your outbound links are going to high authority sites that are relevant to your content. For example, if your post is about animals, you could link to a high authority animal related site like Animal Planet.
19. Use Proper Spelling and Grammar
Not only is proper spelling and grammar important for the readability of your post, but search engines care about it too (and you'll get penalized for writing errors).
20. Use Long-Form Content
Generally, the longer your content is, the higher it will rank in the search results. That's probably because Google considers long-form content to be more valuable. The other effect of long-form content is that it can increase the amount of time that a visitor remains on your page before hitting the "back" button (dwell time). Dwell time is another factor that search engines use to determine how high you rank.
21. Use High-Quality Content
This is perhaps the most important tip of all: make sure your content is high-quality. The more high-quality and useful your content is to real human beings, the easier it will be to rank your content.
Remember, Google's goal is to return the best search results. Make sure your post is better than all the other posts on your topic.